Creating Confidence Through Permanent MakeUp
At BEAUTYINK® we offer certified, safe & specialized custom permanent makeup for men & women of all ethnicities.
Our passion is to help enrich and empower the lives of our clients, giving back confidence and beauty. Elevating the cosmetic tattoo industry, and supporting our students to grow a successful career is our legacy and mission.
Shauna created BEAUTYINK® in 2008 with the vision of enhancing the lives of those she touches daily. As a neurodivergent artist with an acute eye for detail & colour, she now fulfills her purpose with unique abilities few possess. We have created a private, safe haven with a unique experience for you to let go and embrace the best YOU!
Since founding BEAUTYINK®, an award-winning permanent makeup studio in Vancouver, BC in 2008, Shauna Magrath CPCP has completed over 8,000 & counting procedures for all genders & walks of life.
Shauna Magrath is currently the highest trained practitioner in Permanent Make Up in Canada and 1 of only 4 CPCP certified artist in the country. She holds over 80 certificates in all modalities of cosmetic tattooing including microblading, paramedical reconstruction, Scalp Micro-pigmentation (SMP) and Permanent Make Up (PMU).
"Thank you for taking the time to do your research. This will save you much grief when you choose your practitioner. As you can see I am a life time learner and a junkie for new knowledge. I annually update my training, so I can bring the best advancements in safety protocols, techniques, products and equipment to you. If there is something new, I will do my best to learn, expand and grow to give my clients the very best at BEAUTYINK®!
Always Safety First! If a technician you think you want to work with does not have current Blood Borne Pathogen (BBP) certification – RUN! Your safety should come above all else when choosing the technician who is right for you."
Sincerely,
Shauna Magrath, CPCP
2022 

Science Behind The Ink – Pigment Theory

2022

 Bloodborne Pathogens Exposure Control training.

2022 

Flesh Tone Colour Theory Master Class.

2020

 Vicky Martin 3D areola class.

2020

 Botched Ink saline tattoo removal class.

2020

 WHO covid-19 infection and saftey protocols.

2020

 Jody Stoski's areola, stretch marks, paramedical and scar camouflage classes.

2020

 Scalp USA advanced SMP class.

2020

 Shay Danielle Academy fluffy brows class.

2020

 Milady Safety protocol & infection control class.

2019

 Attended the London Meeting of the Minds SMP scalp conference.

2019

 Key Note Presenter at the spring SPCP International Conference in Las Vegas.

2019

 Nominated "Best North American Technician" at the London Meeting of the Minds conference.

2019 – 1997

 Member of I.A.T.S.E 891 Film Union Make-up Department in Vancouver

2018

 Finalist in the "British Columbia Hair & Beauty Awards"

2018

 International keynote speaker on SPR ( Scalp Pigment Restoration) at the fall WORLD FAMOUS Tattoo show in Charlotte NC.

2018

 Winner of the "One Women – Fearless Women Summit" Healing and Advocating for Others AWARD.

2018

 Contributing expert for several Buzzfeed Magazine articles including – Microblading Gone Wrong, Permanent Make Up Can Give Men Their Mojo Back, Self-Care Tips for Wellness Professionals.

2018 -2017

 Contributing expert with Huffington Post daily wellness blog

2017

 Received CPCP Certified Training Status – only one of two in Canada from the SPCP (Society of Permanent Cosmetic Professionals)

2017 – 2016

 Head Instructor for cosmetic tattooing and class developer at Future Hair Training Centre in Vancouver

2017 – 2009

 BeautySAFE certificate from the BC Beauty Council

2017

 Attended the spring SPCP conference in Orlando Florida

2017

 Attended Daria Churpy's Golden Reunion Advances class in LA

2016

 Stardust Technique Training for Lips, Brows and Liner with Master Kristina Melnicenco in Seattle

2016

 Scalp Training with Master Adi Schendel in Belgrade

2016

 Perfection Training with Phi Brow Academy in Belgrade

2016

 Certificate of completion for Phi brow technique and guest of Branko Babic creator of Phi Brow Academy & Conference in Belgrade

2016

 Updated Blood Borne Pathogen Exposure training OSHA certified
2016 SPCP Spring Conference Attendee learning the most advanced info in the industry today from the world industry leaders.
2016

 Winner of Canada's Top Choice Award for "Best Permanent Make up Clinic in Vancouver"

2016

 Advanced Certification with the Society Of Permanent Cosmetic Professionals receiving CPCP designation, the highest certification within the industry

2016

 Guest speaker for Scalp Stippling – Industry Leader for Tech's Helping Techs training conference

2016

 Advanced Training in LA with Will Anthony Smudge Liner Master

2015

 Updated Blood Borne Pathogen Exposure training

2015

 SPCP Spring Conference Attendee learning to most advanced info in the industry today

2016 – 2012

 Member and Council of the American Academy of Micro Pigmentation

2016 – 2008

 Member of Society of Permanent Make-up Cosmetic Professionals

2016 – 2008

 Member of the Royal Canadian Legion

2014

 Conference Guest Speaker IMASTS Vancouver Open Forum

2014

 Advance training in Florida with Mary Richardson Master Brow trainer CPCP

2014

 AAM Conference Guest Speaker on Scalp Stippling and advance training in Areola, Brows and Liners

2014

 Advance training in Florida with Tina Davies "Master Creator of the Feather Touch Brows®"

2014

 Advanced master training in LA with 3 top world masters

2013

 Key Note Speaker for Natural Look Conference plus advanced education – California

2012

 Keynote speaker for Kolorsourse permanent make up conference with the American Association of Micro-pigmentation.

2014-2012

 Advance certification in blood borne pathogen- California.

2012

 BC Beauty Council BeautySAFE certification + adviser.

2011

 Health Educators Blood borne pathogen certification – San Diego.

2011

 SPCP Advanced training 22 hours continued education – San Diego

2011 – 2008

 Member of the Forum For Women Entrepreneurs.

2009 – 2008

 Make-up instructor for the internationally renowned Vancouver Film School

2010 & 2013

 Finalist in the SE Entrepreneur of the Year

2010 – 2009

 Member of the Vancouver Board of Trade

2008

 Received Emmy honor's for her contribution to outstanding make-up on the mini series Tin Man

2008

 Certified in permanent cosmetics by the Canadian Micro-Pigmentation Center in Toronto

2008

 Completed the Self-Employment program at Douglas College.
Specialized:
SMP (Scalp Micro-Pigmentation)
Paramedical Scar Camouflage
GentleTouch™EyEliner
3D Areola Restoration
Tattoo Removal
Luxury Permanent Make Up:
Any Style Brows (Microblading/Shading etc)
Natural Top & Bottom Liner
Wedged & Winged Liner
Gentle Touch Liner™
Brow Correction
Cancer
Arthritis
Alopecia
Diabetes
Accidents
Cerebral palsy
Trichotillomania
Tourette Syndrome (TS)

Thyroid disorder
MS and Parkinson's

Yes, we are wheelchair assessible!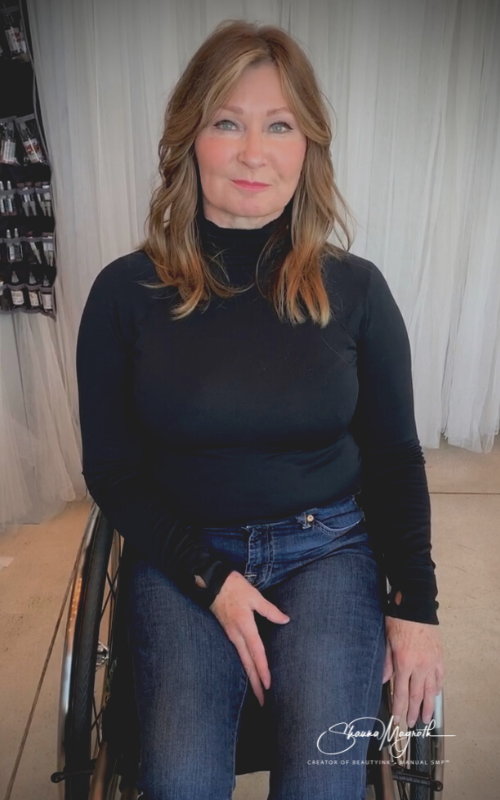 YOU ARE IN QUALIFIED HANDS
Our work has been featured in