Botched Ink® Saline Removal
Saline Tattoo Removal Using Botched Ink®
LASER CAN ONLY DO SO MUCH
Not all pigment can be removed with laser but it can be removed with BOTCHED INK®.
Are you looking to have your microbladed or permanent makeup eyebrows fixed, corrected or removed? Are your eyebrows saturated with pigment that needs lifting before we can give you amazing new brows? Has your eyebrow tattoo pigment gone a different colour to when you first had them done, and now you don't like them? Or do you just have tattoo regret and want to start afresh? I can help you with any of these concerns.  I'm an officially trained Botched Ink® technician. I can even help with eyebrow emergencies, if a freshly microbladed or tattooed brow turns out completely wrong, Botched Ink® will come to the rescue!
Botched Ink® is a saline solution that closely resembles the skins natural pH, this means it's gentle on the skin. During treatment there's no lingering burn or sting, just a short mild sting towards the end of the treatment, and this lets us know we've soaked the skin sufficiently for the best removal. Botched Ink® quickly dries out the treated area, and any pigment healed into that skin; pigment is then lifted and removed during the skins natural healing process. Botched Ink® causes minimal inflammation or irritation, so the healing process it pretty non-eventful. There's a bonus too, a Botched Ink® dried out skin scab is shades of brown, a great colour for eyebrows – you might even get complimented on your new brows!
Any kind of tattoo removal is a process and Botched Ink® is no different. Although we've seen some great results after just one session, most clients will see improvements after 2-3 sessions. It's worth mentally and financially committing to a course of 3 treatments before starting, and during the consultation we can assess how easily the pigment is likely to remove from your skin. Whilst we can't give you an exact number of sessions to fully remove unwanted pigment, you'll be able to understand the removal process and know what you're in for. We find this so helps our clients.
If you'd like to find out how I can help you, please get in touch. I can give advice by seeing pictures or in person and please detail what you're looking to get fixed.
I am so thrilled to now offer the most advanced treatments in Saline removal with Botched Ink® . Effective in removing all unwanted colour, this system will lighten in 1 session and may take up to 6 sessions for the full removal if the skin is heavily saturated.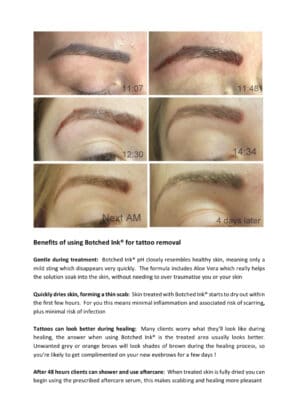 Botched Ink® works great for old saturated brows, discolored brows or SMP and can be used for emergency removals as well. The beautiful thing about this system is there is NO THICK CHUNKY SCABS like other treatments. You won't have to stop your life, you can still shower and the down time is minimal unlike other saline products. Your brows won't look crazy the next day and the flaking is minimal as it heals.
I look forward to assisting you on any full removal, lightening and emergency removal, so I can give you back a natural look that will make you feel confident again. Consultations are free, so why don't you let me take a look. Sessions are only $350 each or $900 for a pack of three, making it more cost effective than laser.
Contact us and I would be happy to share more information @ 604 639 3609.
I book by appointment only for your privacy and the best service her @BEAUTYINK®
IF you are an ARTIST WANTING TO LEARN BOTCHED INK®….. check this out!