A.R.T. 3D Areola Restoration
Customized Nipples For Men & Women
Feeling incomplete can be emotional and traumatizing. The experience of a breast cancer survivor is a long and difficult one; every patient has a different experience.
As a Vancouver-based cosmetic tattoo artist who specializes in 3D areola restoration as well as other forms of paramedical tattoos, I am able to assist clients in the completion of a journey in nipple restoration.
Once the nipple/areola is removed in a mastectomy, it cannot be reattached. If it is removed in plastic surgery, even if it is not entirely elective such as with a breast reduction, while the nipple can be re-attached, it is often
misshapen, lighter than it was previously, or has scarring that changes the appearance.In other situations, someone may want to undergo areola tattooing to enhance or enlarge an areola they aren't pleased with.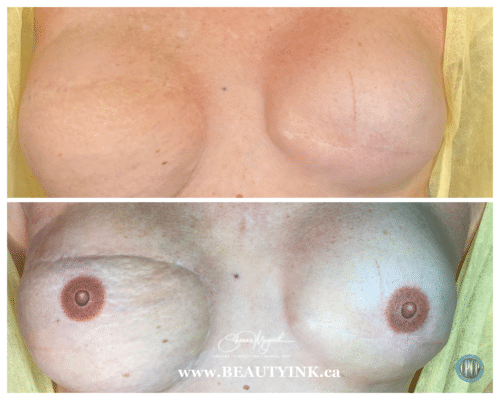 Whether from a minor treatment like a lumpectomy, a cosmetic procedure, or ultimately the loss of one or both breasts from mastectomy, I can produce a hyper-realistic, three-dimensional areola using tattooing to restore all or part of what has been lost.
Book today